The words from this song video are from Hoshea 2:20. They are about the messianic rainbow covenant that is yet to come.
neohasid.org was launched on the 10th anniversary of the first Chasidic egalitarian minyan, founded by Rabbi David Seidenberg in NYC in 1995. Its first aim was to help people integrate Chasidic customs, learning, and nusach into new contexts. Over time, neohasid has added eco-Torah and earth-centered liturgy, as well as gender-liberating liturgy, to its mission, and neohasid.org was also a founding member of the Green Hevra represented at many Jewish environmental events.
neohasid.org is dedicated to the memory of Maidi Katz, who was a devoted participant in that minyan.
Get Rabbi David Seidenberg's acclaimed book,
Kabbalah and Ecology: God's Image in the More-Than-Human World, in paperback for $35 or less ( Amazon, Googlebooks). Read sections, get ordering information, etc. Join neohasid's list to get updates about the book, new liturgy, songs, and more.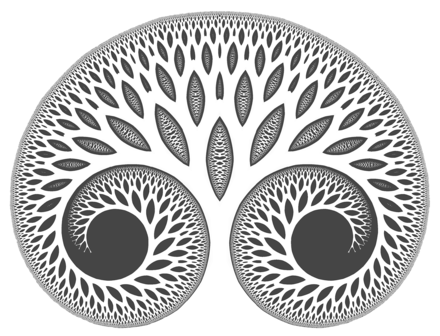 What's new or current, 4/30/2021
Everything for the Omer! Omer Counter apps and widgets, Blessing the Fruit Trees, Yom HaShoah, Yom Ha'atsmaut, Lag B'Omer, Rainbow Day, Ana Bekhoach, nigunim, more...
This year (2021), May 8-9 is Rainbow Day! Find out more here, and get the extensive Rainbow Day curriculum here. Learn about the connection between Rainbow Day and Shmita, and all other Shmita resources on neohasid, here.
The Omer app includes notifcations, quotes for each day, and reflections on what it means to be counting during this pandemic.
We count the Omer together on Zoom every Sunday night and other times as well. Get the Omer Counter app and go to the quotes page for details.
Click here for Kiddush Levanah - the Blessing of the Moon!
A prayer for democracy! Pray for protection for the new government, and for its success in the work of uniting the country to pursue meaningful goals like justice, in the face of reactionary forces that deny reality – rachmana lits'lan (God help us)! This prayer is based on the voting prayer:
May it be Your will, YHVH our God, that You give a listening heart to those whom we have elevated to the government, for rulership is Yours. May You tear out tyranny and despotism, ruin those who cheat and deceive, upend those who oppress the vulnerable. Make the reign of the arrogant disappear from all lands. Pulverize the plans of those who attack democracy. Deny them, make them fail, humble them, soon in our days. And may You give to all the peoples of this country the strength and will to pursue righteousness and to seek peace as a unified force, to uproot racism and violence from our hearts, and to make healing, good life and peace flourish, here and throughout the world.
"YUGE" TIKKUN OLAM resources, articles, history, text study, including 29 texts on Tikkun Olam that will rock your socks!
Bring Rabbi David Seidenberg and telescope to your community to teach about astronomy and the stars - in the sky and in Torah!
Please sign up for our list to find out about updates.
You'll find the lyrics to the Youtube video of Shimshai and Assi Rose at the end of this column.
~~~~~~~~~~~~~~~~~~~~~

Reb Duvid's articles online: Times of Israel | Jewish Journal | Tikkun magazine | Tikkun Daily | Huffington Post | The Jew and the Carrot | Scribd | Academia.edu
Reb Duvid's liturgy on other sites: opensiddur | ritualwell
Here are the lyrics to the song video, from Hoshea 2:20:

V'kharati lahem brit bayom hahu im chayat hasadeh v'im of hashamayim v'remes ha'adamah v'keshet v'cherev umilchamah eshbor min ha'aretz v'hishkavtim lavetach
On that day, I will make a covenant for them with the beasts of the field and with the birds of the skies, and all creatures that crawl on the Earth, and bow and sword and war I will break from the land, so that they all will lay down in safety.

Music by Shimshai with Assi Rose on accordion. You can listen to another version of this song by Amen here!
More on neohasid:
—David Roskies, JTS professor of Yiddish Literature,
after the first meeting of the Chasidic Egalitarian minyan in 1995
לעילוי נשמת עזריאל גודל בן אפרים הלוי וידידיה for my father



The real issue of our age is how we make a graceful and ethical descent from the energy peak. ~ David Holmgren
Eco-Hasid Eco-Torah!
embracing the Earth, confronting climate change in our lives and hearts
Save the Negev – Hope for the people, hope for the earth
Get Earth prayers you can add to your siddur or ritual!
Bring Chasidic Nusach to your Community
NeoHasid.org is dedicated to bringing the wellsprings of Chasidut as far as the internet can carry them–an open door to Chasidic songs and traditions (aka "Chasidus"), for everyone: women and men, religious or secular, however observant, connected to a Jewish community or not, featuring eco-Torah, egalitarian and eco- liturgies, and cultural reports on the new Chasidus.
Participate: Add a song or teaching!


Use it: Learn and teach a new nigun to your community.



Features: